**APPLICATIONS NOW OPEN FOR OUR FULL TIME LTI COOKERY PROGRAMME – CLICK HERE TO APPLY**
Click on the links below to find out more about Mayo Abbey Cookery School and the full time LTI cookery program.
About Mayo Abbey Cookery School
Regardless of your cooking ability, Mayo Abbey Cookery School has a course to suit you. From the complete beginner to the more adventurous cooks, our courses are designed to inspire. The Cookery School boasts a purpose built training kitchen with individual workspace for approximately 14 students.
Our cookery tutors are experts in their field and under their guidance students will have the opportunity to learn practical skills and techniques to amaze family and friends with mouth-watering creations.
Courses are designed to equip the learner with the knowledge, skills and confidence to work in a professional kitchen or progress to further studies in the Catering/Hospitality sector.
We run both accredited & non accredited courses. In addition, a number of cookery demonstrations are run throughout the year.
Some of the courses we run in the cookery school are listed below – Please click on the course name to find out more.
Our courses are open to anybody with an interest in cookery. By working with organisations such as the Department of Social Protection and FAS/SOAS, the Cookery School have been able to provide an opportunity for the unemployed to gain a QQI qualification while at the same time discover if Professional Cookery was a suitable career route for them. This helps improve the well-being and opportunities of those unemployed by providing them with life skills which will benefit them in their search for work.
Alongside accredited courses, the cookery school also runs a number of non accredited short courses and cookery demonstrations such as the One Day Waitressing course. These classes and demonstrations are aimed at encouraging people to cook at home and show them the value of using fresh produce and avoiding convenience foods.
Our courses can be tailor made to suit the needs of a particular group. If you are interested in any culinary / barista / hospitality courses and do not see information for the course you are interested in, please feel free to contact us and let us know – Click here for contact details.
Background to Mayo Abbey Cookery School
A need for the provision of cookery/culinary skills training in the hospitality sector was identified by the team at Mayo Abbey Centre. It was recognized that this need, together with the renewed emphasis by government on tourism and related projects would generate new work opportunities for suitably trained people.
In 2011 Mayo Abbey Resource Centres application to FAS, to run a full time LTI (Local Training Initiative) Professional Cookery Programme was approved. At the time it was said by FAS officials, that the existing kitchen, although well equipped would need to be developed in order to be a suitable training venue for these full time cookery courses.
Staff at the centre looked at developing a training kitchen facility. After a lot of consideration and planning, Mayo Abbey Resource Centre with the assistance of South West Mayo Leader funded the transition of an existing training room into a fully equipped state of the art training kitchen, which can cater for "hands-on" practical classes of up to 14 students, each having access to work stations, cookers, sinks etc. The training kitchen was officially opened by Fionnuala Kenny in September 2012 – click here for images.
As well as running the full time cookery course each year since 2011, Mayo Abbey Cookery School continues to go from strength to strength. As well as realising the importance of maintaining good relations within the industry, our team are constantly assessing the needs of the locality, designing and shaping solutions that will address those needs and also adapting and modifying programmes in order to increase participation.
In order to allow our cookery courses become more accessible to people from further afield, Mayo Abbey Cookery School have rolled out courses externally, including in Achill and Belmullet.
The Cookery School has created jobs for one full time co-ordinator as well as two part-time co-ordinators. It also employs a number of part time tutors for various courses. It has greatly added to the economic development of the Mayo Abbey region.
Full Time LTI Cookery Programme
The LTI programme is a community based training programme designed to provide opportunities for learners who are unable to participate in other MSLETB training opportunities for personal, social or geographic reasons. LTI programmes are firmly rooted in the community and encourage learners, who otherwise might not avail of mainstream training, to develop their existing skills and learn new skills in an environment that is tailored to their particular individual needs.
The first FETAC (now QQI) Level 5 Professional Cookery programme started in October 2011. This was the first FETAC Professional Cookery programme to be supported by FAS anywhere in Ireland. The quality and success of this programme has been recognized by FAS to the extent that it is now being rolled out in various centres nationally.
Mayo Abbey Cookery School have further strengthened this training by strongly linking it to the employment requirements of the local area and in return received the backing and support of local industry. They have also forged strong links with further educational facilities such as GMIT & Killybegs College of Tourism – testament to this is that many students decide to progress to these colleges after completing their courses
In more recent years, MSLETB (Mayo Sligo Leitrim Education Training Board) have taken over the running of the LTI Training Programmes in Ireland and staff at the Resource Centre work with MSLETB to deliver the programme.
Over the years, our students have had various opportunities to showcase their talents including:
Taking part in Mayo Master Chef – our students competed against some of the top chefs in Mayo – click here for more information
Planning, preparing and hosting buffets, dinners and afternoon tea for invited guests
Planning, preparing and hosting a Medieval Banquet – see photos here
During the duration of the course classes are brought on various field trips, showcasing premium culinary products locally. Tutors also organise speakers to come in and talk to the class about their culinary journey. Guest speakers have included Nevin Maguire.
To find out more about our full time cookery programme, please Click this link.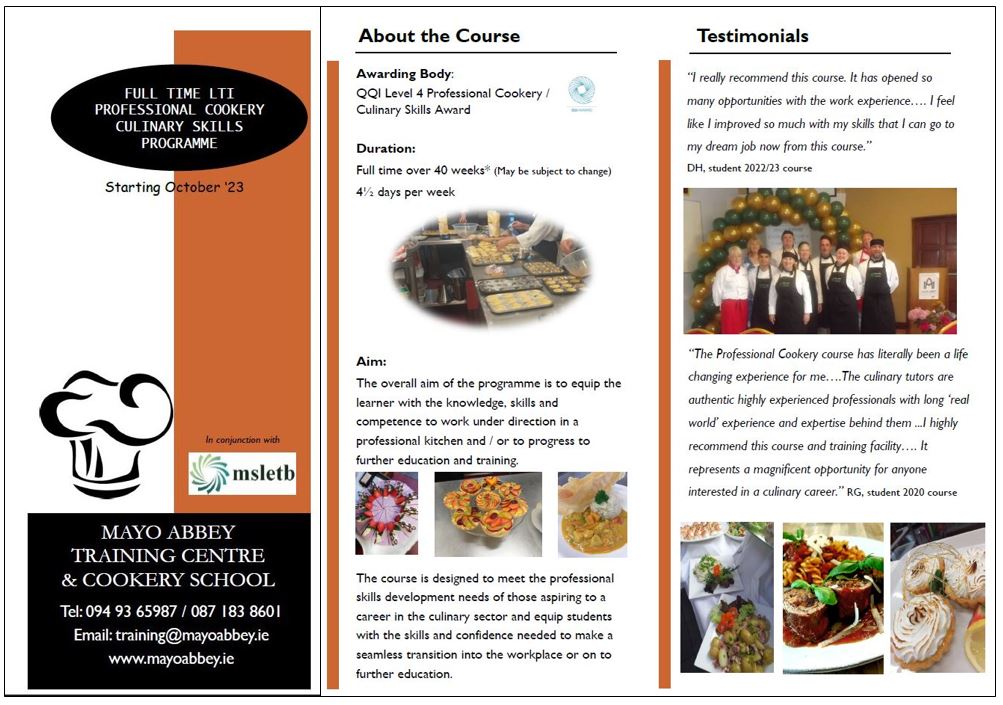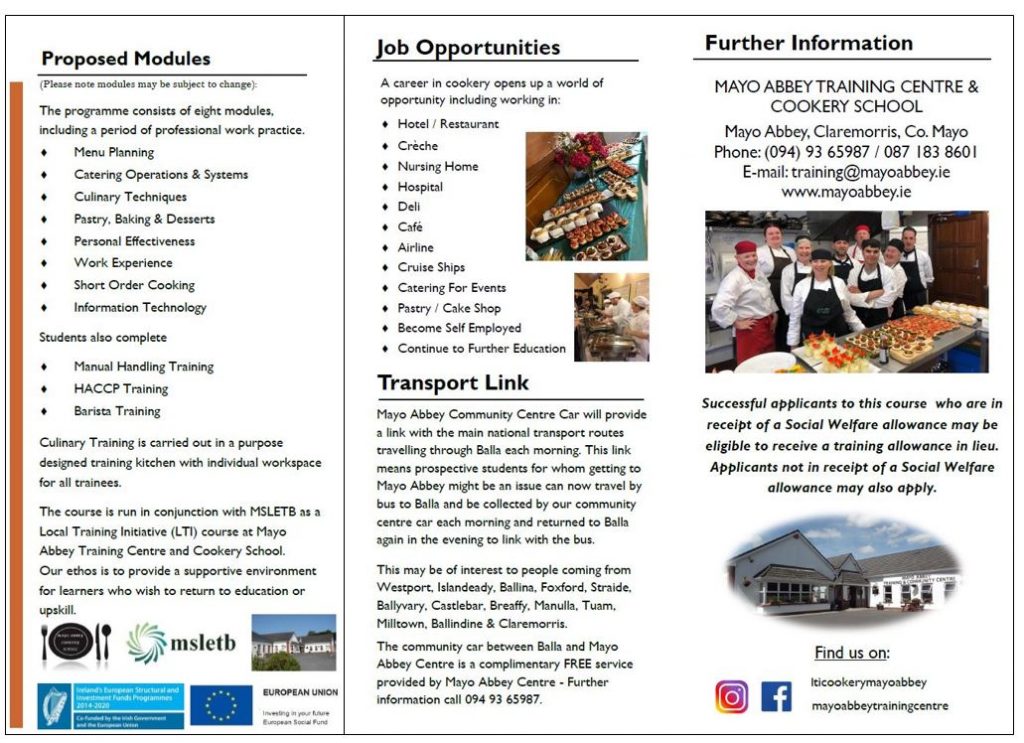 Class of 2022/23 Graduation
Our LTI Professional Cookery Class of 2023 celebrated coming to the end of their course with a graduation ceremony held in Mayo Abbey Centre on Tuesday 25th July. We are so proud of these students, the journey they have been on, their eagerness to learn, the manner in which they embraced the challenges of the course and supported each other on their journey.
Students were presented with certificate on attendance by Rose Conway-Walsh TD and Alan Dillon TD who joined us on the day to celebrate the achievements of our students. Students had prepared a magnificent banquet, showcasing the skills and knowledge they learned while on the course. The day celebrated not only the graduation of our students, but also the start of an exciting new chapter in their lives.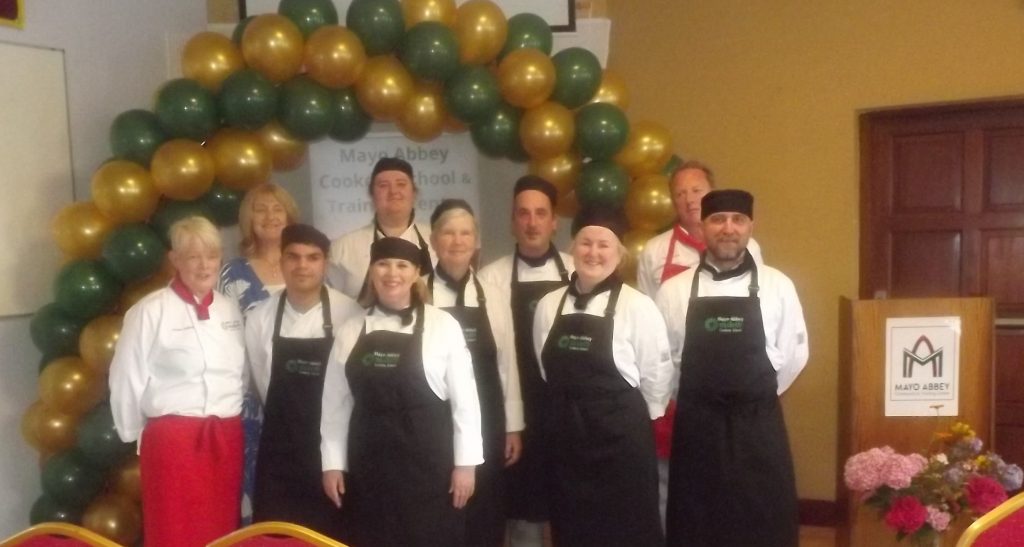 Cookery School's News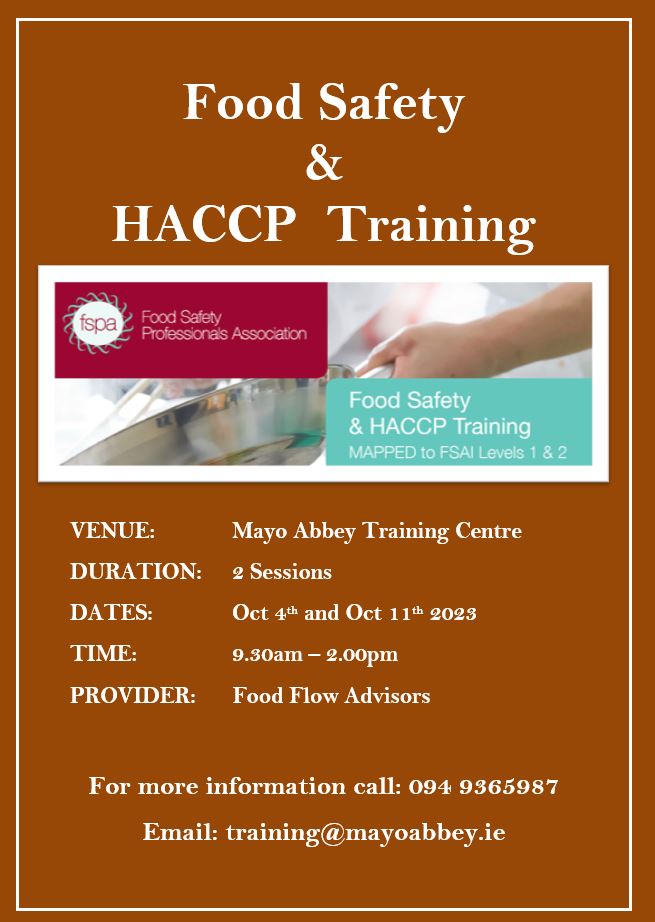 By Brian Killeen
/ 15 September 2023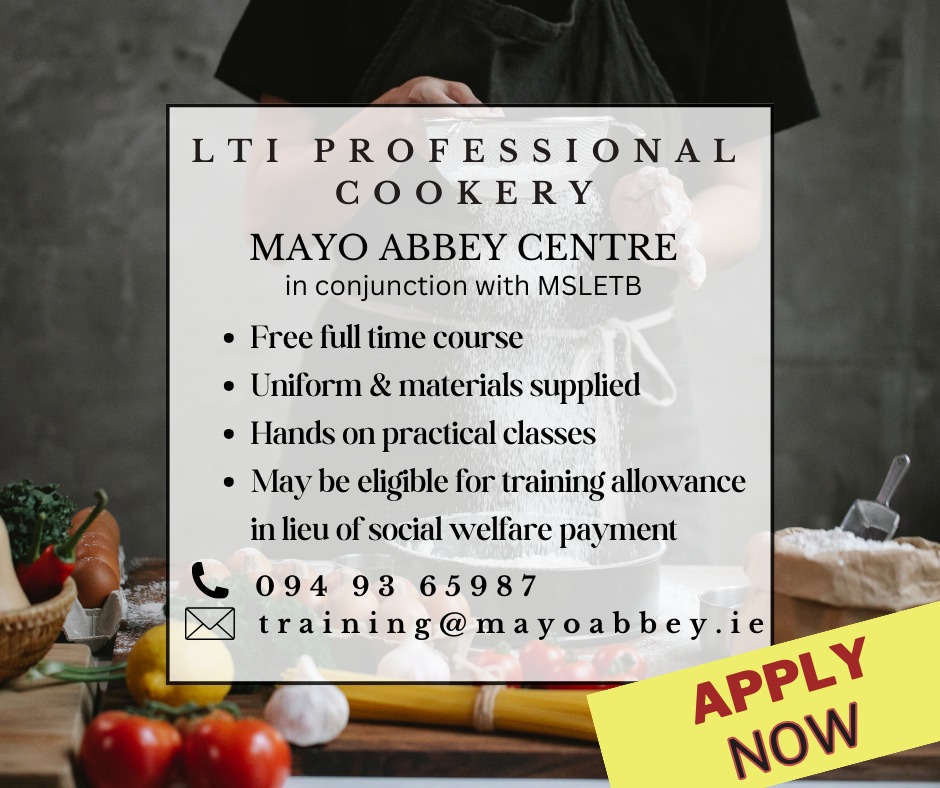 By Brian Killeen
/ 20 July 2023
Interviews for places on our full time LTI Professional Cookery course starting tomorrow - Dont worry, there is still time...
Read More
Mayo Master Chef
In 2012, the Cookery School took it upon itself to organise what, for a few years, became an annual event – Mayo Master Chef.
The competition received the full backing of Chefs of Mayo who were delighted to become involved and help co-ordinate and promote the competition. There was a lot of interest in the competition from around the county.
Budding student chefs from the School joined seasoned professionals in vying for top honours in the five competition classes – four of which were open to both junior and senior level chefs. One category was at junior level only and there was also a special hygiene award.
Over the years, the students of the Mayo Abbey Cookery School exceeded all expectations by receiving many of the top awards including one student coming second in the senior fish class. These achievements received good coverage both nationally and locally through papers and professional catering websites and magazines.
To go to 2013 Master Chef gallery, please click here
To go to 2014 Master Chef gallery, please click here
Cookery Gallery
Official Opening of Training Kitchen & Cookery School 2012
Medieval Night
2013 Masterchef
2014 Master Chef