Click on the links below to find out more about our Rural Transport Programme, how it began and current services.
Background
In 1997 a meeting was held to assess the needs of the community. One of the main concerns was the growing awareness of rural isolation in communities, and the problems it can cause. With this in mind a committee was set up to look at the need for transport in the locality. A community minibus was purchased by Mayo Abbey Parish Community Development Company in 2003 and the community transport service was launched to provide a transport service to the community.
Over the years, and with support from the Rural Transport Scheme which later became known as Local Link Mayo, the bus service increased and provided various services including:
Picking passengers up at their homes, bringing them to town once a week and returning them home afterwards . This weekly town run alternated between Castlebar and Claremorris. The Claremorris run was later expanded to include Knock.
Pick passengers up at their homes and bringing them to the Resource Centre every Friday for lunch and social activity, with return to home afterwards.
Active Age Social Outings
Linking between Abbey Tots Childcare facility and school, so that children who were dropped at Abbey Tots in the morning could be brought to school, and children in school would be returned to Abbey Tots after school finished.
With the realization that our existing bus would need to be changed in the coming years, changes in legislation and for a variety of other reasons, talks started between Mayo Abbey Parish CDC CLG and Mayo Local Link around the bus service. This culminated in Mayo Local Link taking over the service. In doing this all existing services were continued with some routes expanded.
Current Routes
Local Link Mayo have the following routes which depart & arrrive in Mayo Abbey:
Weekly social dinner run, collecting people at their homes, bringing them to the Centre for dinner and returning them home again afterwards.
Daily runs bringing children from Abbey Tots to the primary school each morning.
Two daily runs brining children from the primary school to the creche after the school day.
Depart from Mayo Abbey daily (Tuesday to Friday) to travel to Castlebar via neighbouring districts:

On Tuesdays and Thursdays the bus travels via:

Coolmeen
Curry Crossroads
Kilgreana
Ballyglass

On Wednesdays, Fridays and Saturdays the bus departs Mayo Abbey:

Turns left at the Freeheen junction going through Ardcorkey and Brownhall Crossroads
Then turns at the Lakemount junction for:

Rathnacreva
Ballyglass
Continuing to Castlebar

Wednesdays and Saturdays the bus is available on demand from Facefield

There is an additional service going to Claremorris via Knock departing from Mayo Abbey, Facefield and Ballyglass every Thursday.
Timetables / book a seat
For more information about departure and/or arrival times, or to book a seat, please click here.
Alternatively you can contact Local Link Mayo at 094 900 5150/
Transport News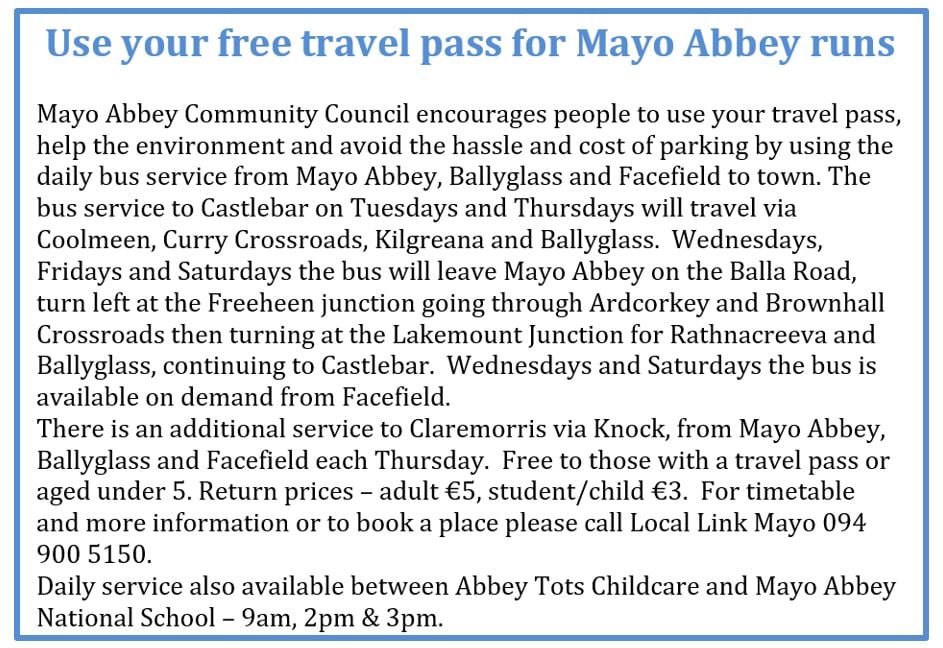 By Brian Killeen
/ 18 January 2022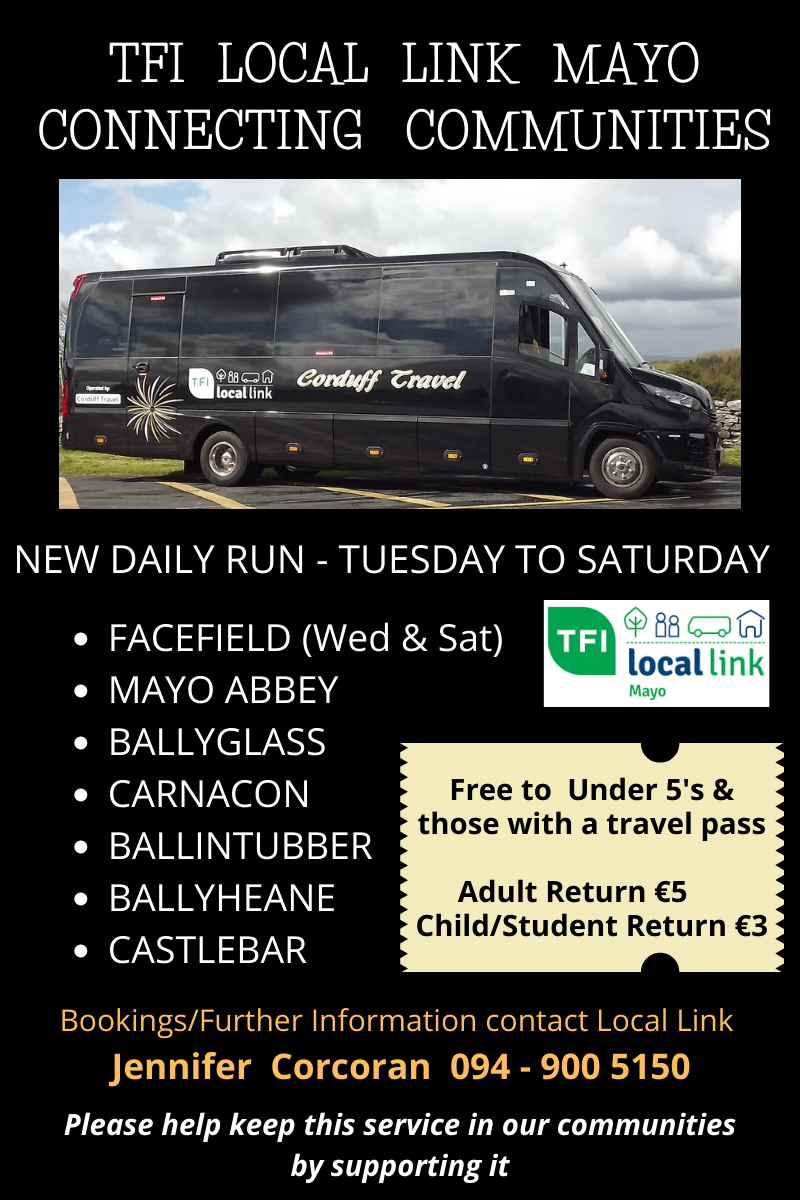 By Brian Killeen
/ 23 August 2021
Gallery