Mayo Abbey's Heritage
Known throughout the Christian world as 'Mayo of the Saxons'. Mayo Abbey was already 300 years old when Viking Dublin was founded. Founded by St. Colman of Lindesfarne in c670.

The written heritage of Mayo Abbey begins in 731 when it is mentioned in writing in the "Ecclesiastical History of the English people" by the Venerable Bede of Jarrow.

Alcuin, of York, chief advisor to the Roman Emperor Charlemagne wrote at least two letters of support and praise to Mayo of the Saxons (c780)

Annals of Ulster state that Bishop Aldwulf of Mayo was 6th in seniority at a church council in York in AD 786.
In AD. 1176, Donnell O'Conor, son of Turlough O'Conor, and brother of Rory O'Conor, last High king of Ireland was buried here.
Mayo of the Saxons continued to be in contact with Europe throughout the middle ages. During the 1430's the bishopric of Mayo is again mentioned in papal records.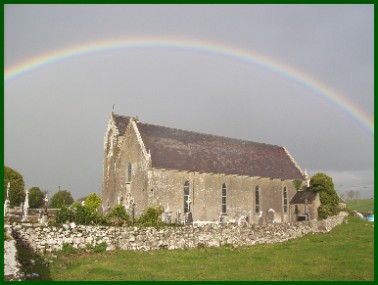 Mayo Abbey was under the direct control of the Papacy, not subject to the local secular political rulers.
In 1370 the abbey 'St Michael, Mayo' became an Augustinian Abbey. Confirmed by Pope John XXIII in 1411.
Seat of the Diocese of Mayo 1152 to 1631.

As far as we know there were 14 bishops of Mayo. Best known is Patrick O'Healy, first bishop to be executed for the faith in Ireland.

The Vatican archives describe Mayo diocese as "'the bishopric of Mayo, where there was once a famous university which had seven colleges, two abbeys and other churches besides its cathedral"'.

In the 1578 gave its name to the county of Mayo.
---
Heritage Group
Mayo Abbey Heritage group was formed in 1993 and is affiliated to Museums of Mayo and the Tochar Valley Network.

Aims
To research, preserve, promote the Historical and Archaeological Heritage of Mayo Abbey.

Specific Objectives
To preserve, refurbish St. Colman's Church (known as the famine church) to utilise it as a focal point of the Heritage Village and the parish of Mayo Abbey. To preserve the existing roofed structure, as near its original state as possible.

To secure and refurbish it as part of the heritage of our locality, it's significance in the County's past history and for its transnational connections.
To utilise the building and the adjoining old schoolhouse for the benefit of the local parish community; in particular to store, preserve and display the archaeological and historical heritage of the parish.

Members
The present members are, Eddie Barrett, Mary Jo. Barrett, Fr. Austin Fergus. P.P. Jimmy Finn, Ger Maguire, Joseph Ruane, Paddy Gibbons , Martin Flatley, Shane Adams, T.J. Wilson, Martin Dunne.
Previous members included; Joe Brett, Michael Hambly, Christy Dunne, Geraldine Joyce, Isidoe Joyce and Kevin Barton.

The group meet monthly (or as needed) and among their many achievements have been the securing FAS Community Response scheme which over a five year period researched the history of the area, securing funding, reopened transnational links with Iona (Scotland) and Northumbria (England) which dated back to the seventh century. Held two international conferences in 1995-96 which brought together archaeologists and historians from universities in Scotland, England and Ireland.

Worked with Kilmartin House Museum, Scotland in building a cowhide and hazel-
framed Corricle which was sailed to Iona as part of the 1997 ceremonies to
commemorate the 1400 Anniv of the death of Colmcille.

The Heritage Committee members were closely involved in the building of Bishop O' Healy Centre. The committee produced the storyboards, which provide an impressive introduction for visitors to the centre and also has completed a 15 min.
audio/visual presentation.

The Committee has been working with Fr. Austin Fergus over the last few years to ensure the protection and preservation of the Famine Church. The structure has been re-roofed, the stain glass windows repaired and restored, replacing of external doors and floodlighting is now in place. This was made possible by grants from the National Millennium Committee, Mayo County Council and Social and Economical fund. This work is part of a longer-term plan to utilise the Famine Church as a focus for Heritage Tourism in the parish.

The group are at present at the completion stage of plans for the old school house and the interior of the church. Grants have been received from Mayo County Council towards both projects. Their aim in the future is to secure Mayo Abbey's place in the ecclesiastical history of our country.

Projects have been supported by South West Mayo Leader Co., FAS, County Enterprise Board, Mayo County Council, Dept. of the Environment, National Millennium Committee, Archdiocese of Tuam.

Background
As the name implies, St. Colman's Church was built in the 1840's and officially opened in 1845. It remained the parish church until 1978, when a new church was officially opened in the village.
The Famine Church is located in the centre of the village and stands on the ruins of a line of churches and monasteries stretching back to the 7th century